By now my Kickstarter project backers should have received their Olympic Spirit Project – Sochi 2014 rewards – postcards, prints, books, eBooks. If you have not received yours and you haven't heard from me to let you know it's on its way, it's most likely because I'm still waiting on your mailing address. If this is the case, please shoot me a message with your mailing address and I will send it off to you.
The Olympic Spirit Project Book – Print, ePub & PDF!
Last week I announced that the Olympic Spirit Project – Sochi 2014 eBook was ready for download, YAY!! At the time, the eBook was only available in ePub format, so today I'm happy to announce that I've released a PDF version for those who do not have access to an ePub reader.
  Buy now as ePub        Buy now as PDF        Buy now in Print
Early Reviews For The Olympic Spirit Project Book:
"For someone who really wanted to be there but couldn't, this book is the next best thing! It's obvious once you look at it, how much love went into producing this book. The pictures tell a great story about the spirit of the Sochi Olympic Games. Thank you Mariska for taking all those awesome pics and sharing your passion."     ~ Reese Richards
"This book really captures the spirit of the Olympics games and the inspirational message they carry. Plus, it has beautiful photos! A perfect gift or coffee table book for any athlete or Olympics fan."   ~ Toffler N.
"The Olympic Spirit Project is a wonderful book that gives you an inside look at what it was really like to attend the Olympics in Sochi, Russia. If you are an Olympics fan, this book is for you!" ~ Hilary Curry
A sneak peek inside The Olympic Spirit Project Book…
Epic Canadian fans at the Men's Gold Medal Hockey Game:
If you were glued to the television watching as Canada competed in Sochi, this book is an up close and personal encounter of being on the sidelines cheering with your fellow Canadians!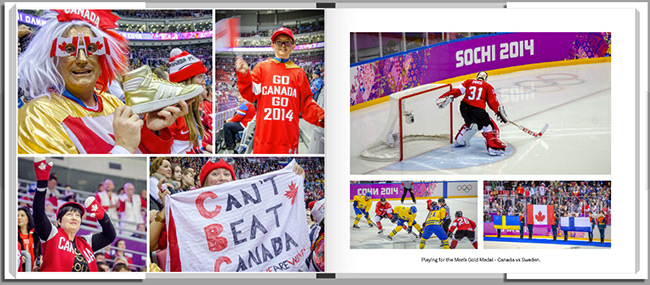 The Sochi 2014 Olympic Cauldron and Olympic venues:
If you were at the Sochi 2014 Winter Olympic Games, this is the perfect souvenir to keep those memories and Olympic Spirit fresh!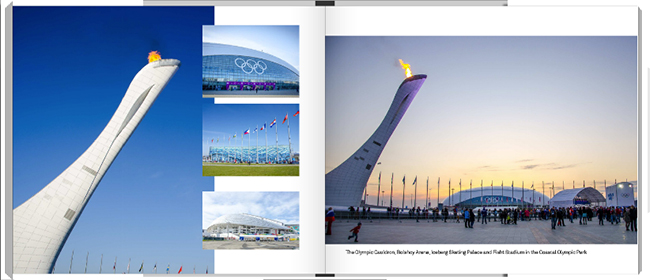 Get your Christmas shopping done early!
This book is the perfect gift for any athlete or Olympics fan on your list!
  Buy now as ePub        Buy now as PDF         Buy now in Print