2015 marks the 35th anniversary of Terry Fox's Marathon of Hope.  Although most Canadians know who Terry Fox was and of his incredible legacy, here's a quick introduction.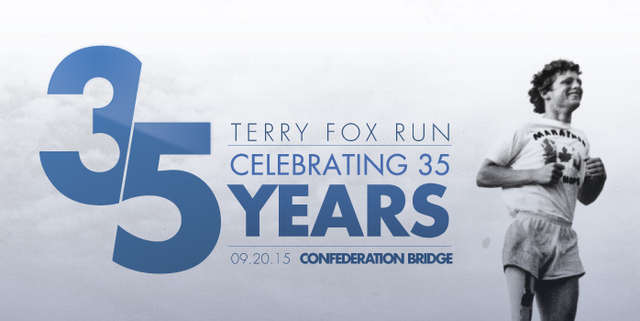 Terry Fox was a young man from Port Coquitlam, BC who was diagnosed with bone cancer forcing him to have his leg amputated 6 inches above the knee at age 18. He was so affected by the suffering of the other cancer patients in the hospital (many of them children), that he set out to run across Canada to raise money for cancer research on a prosthetic leg. He called this journey the Marathon of Hope.
Terry trained for 18 months, running over 5,000 km before setting out from St. John's, Newfoundland toward the West Coast on April 12, 1980 with the goal of collecting $1 from every Canadian for cancer research.
"When I started this run, I said that if we all gave one dollar, we'd have $22 million for cancer research, and I don't care man, there's no reason that isn't possible. No reason!" ~Terry Fox
Terry Fox ran close to 42 km everyday through Canada's Atlantic provinces, but sadly after 143 days and 5,373 km, he was forced to stop running just outside Thunder Bay, Ontario. Terry's Marathon ended on September 1st, 1980 when cancer was discovered in his lungs. Terry passed away 10 months later just a month short of his 23rd birthday.
"It took cancer to realize that being self-centered is not the way to live. The answer is to try and help others." ~Terry Fox
Although Terry Fox's journey with us ended, his legacy lives on. To date, the annual Terry Fox Run has raised over $650 million worldwide for cancer research. His legacy began in April of 1980 and still shines brightly 35 years later in 2015. Terry Fox is a household name that Canadians respect and will not soon forget.
The Terry Fox Run is slated for this weekend in most Canadian communities. You can find the Terry Fox Run nearest to you here. Where will you be participating in the Marathon of Hope this weekend? Please share in the comments below.
"If you've given a dollar, you are part of the Marathon of Hope ."