One of the things I'm loving about living on Vancouver Island is that the local community makes a great effort to shop local and support the small businesses within the community. One of my favourite parts of this is the local farmer's markets. I love my weekly fruit and veggie stock up at Russell Farms Market, the farmer's market closest to my house.
I bought this huge bounty at Russell Farms Market for only $30!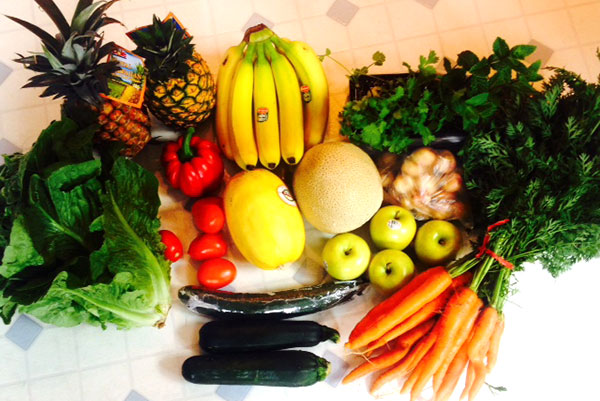 1 HUGE head of locally grown romaine lettuce
2 zucchinis
a cucumber
a red pepper
4 apples
2 pineapples
a giant bunch of bananas
a bag of locally grown baby potatoes
a big bunch of locally grown carrots
a cantaloupe
a spagetti squash
4 tomatoes
a dozen free range eggs (not pictured here)
a cilantro plant for my garden (mmm fresh home made salsa!)
a mint plant for my garden (mmm home-grown mint mojitos!)
All the fresh local produce is picked each morning and can be on my plate the same day! It doesn't get any fresher than that!
If I was to buy all of this at Save On or Thrifty Foods I would probably pay close to $50. And the best part is that I'm not only saving money, but I'm eating healthy and supporting the local economy!
About Russell Farms Market

Location: 2711 Mt. Sicker Rd, Chemainus [map]
Summer Hours: 8am to 9pm daily, Winter Hours: 8am to 8pm daily
They are open year round with seasonal produce and other produce sourced from around Canada as well as internationally
Russell Farms is the largest strawberry grower on Vancouver Island
They have a garden centre, fully stocked deli and an ice cream bar for those hot summer days
For more information about Russell Farms, including weekly specials, visit their website, or better yet stop by for a visit and an ice cream cone!
Do you shop local? Where is your local farmer's market?