I woke up on Day 4 with bruised knees and a hovering flu, and I tried my best to ignore both as I prepared for a day of hockey. I was about to leave the hotel when there was a knock on the door and there stood Evgeny from the front desk with my luggage! I was so happy to see him standing there there with my bag that I jumped up and down, screaming, "YAY!!!" and gave him a giant hug! (I don't think he expected that! Haha!)
The best part about having my luggage back (besides the fresh clean socks and underwear) was the meds that I always pack in my first aid kit! So after changing into fresh clothes (so good!) I popped a couple of DayQuill and headed out for a day of women's hockey!
I arrived in Sochi with 2 tickets to the afternoon women's semi-final game and was really hoping it would be the Canada vs Switzerland game, but it turned out to be the USA vs Sweden game.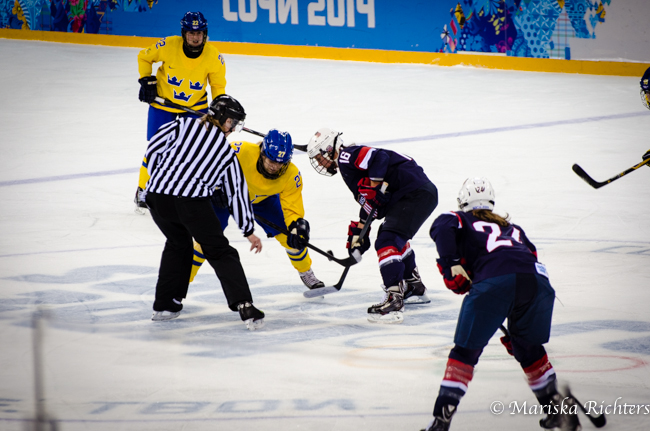 I had managed to sell my extra ticket to the same American guy I had bought my short track speed skating ticket from (yay!!), so now I had some extra cash to buy a ticket to the Canada vs Switzerland game! So after the USA game, I headed straight over to Canada Olympic House to see if anyone was selling tickets, and sure enough there were! I got one for almost half of face value!
By this time it was about 7:30pm, I was hungry and the DayQuill had pretty much completely worn off. I felt terrible! I realized that this flu was only going to get worse before it got any better, and started to wonder if it had been such a great idea to stay for the second game…? But who was I kidding??? OF COURSE it was a great idea!! Canada was playing and I HAD to go support them!
I had about 2 hours to kill before the game, so connected with my friend Shauna and we headed to the cafeteria tent for some food and to get warm. I must have looked as terrible as I felt, because Shauna ended up buying me a bowl of soup and a hot cup of mulled wine to warm me up from the inside out. (Thank you Shauna!!) It helped and I perked up as game time approached.
When we got to the Shayba Arena , we were stopped by CBC who followed us in, thanks to Shauna's awesome homemade Canada signs! Seconds after this happened, both Shauna's and my phones went crazy with messages from friends back in Canada who had just seen us on TV! Awesome!!
Once inside, we found Mascot #2, the bear! I immediately went to have my photo taken and when he saw my Canadian flag pins, he gestured that he would love to have one, so of course I gave it to him!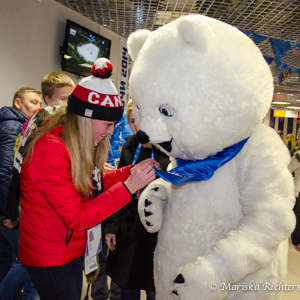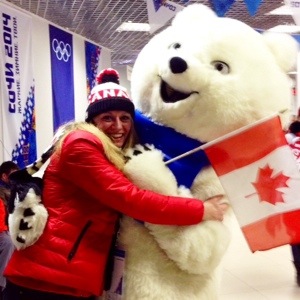 The game was incredible with a 3-1 win for Canada, moving the ladies on to the gold medal round! Unfortunately my seat was right behind the net, so I was not able to get too many great shots of the ladies playing, but it was an amazing experience and great to see so much support for women's hockey! Being surrounded by other Canadians brought the energy up and made it that much more exciting.
Click the image below for CBC's summary of the game.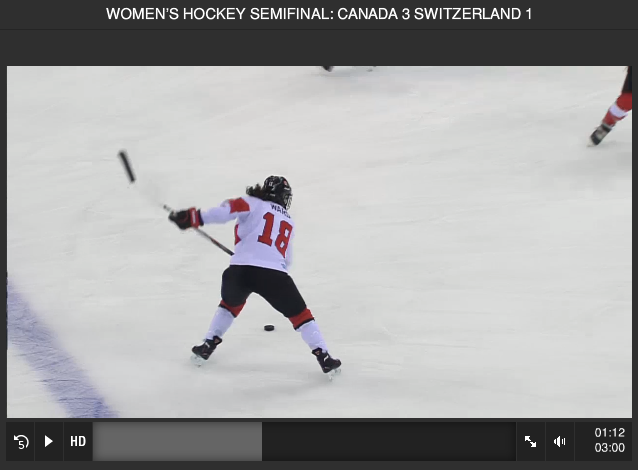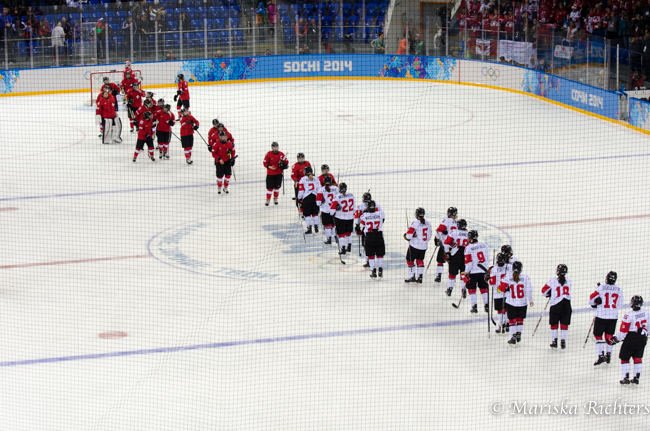 So there you have it, another incredible day at the Sochi 2014 Winter Olympics! With each passing day, I just don't know how the next day could possibly top it, but somehow it just does!
Did you watch the ladies play in the semi final? What did you think of the game?